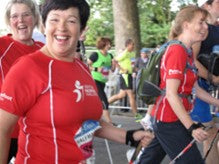 Instructor Member of British Nordic Walking
Would you like to keep up-to-date with all the developments in one of the UK's fastest growing outdoors activities, then joining British Nordic Walking as one of our endorsed instructors is great value. We have some excellent deals to save you money too.
Be Part of the British Nordic Walking Brand British Nordic Walking CIC is part of the International Nordic Walking Federation (INWA), the original body of Nordic Walking. By joining British Nordic Walking, you are also endorsed by INWA – a double dose of credibility for you as a Nordic Walking instructor.
You will be able to use the British Nordic Walking and INWA logos on all your publicity material and be able to wear the distinctive British Nordic Walking instructor's jacket. 
Be part of the British Nordic Walking community As an instructor member of British Nordic Walking you'll be part of a thriving community of instructors, helping people become fitter and healthier through one of the UK's most dynamically growing outdoor activities.
You'll be able to attend the INWA Annual Conference, meeting Nordic Walking pioneers and hearing the latest research in the field.
You'll receive regular email newsletters to keep you in touch with news of updates from British Nordic Walking and INWA.
Join us on Facebook, Twitter and Google+ (the choice is yours!) and we can help share your news there as well as in our newsletters.  
Make big savings and earn money 
Setting up as a Nordic Walking instructor is not without its costs which is why we have worked hard to create some attractive deals for you:
Discount on a set of Exel teaching poles .
Our members only insurance scheme –  saves you 1/3 off the price of the alternative insurance policy on the market.
25% off the RRP of poles through our member only Instructor Retail Scheme – giving you the chance to earn through selling poles, spare parts and accessories to your clients.
Discount on the standard price of the British Nordic Walking Conference – where you can be the first to hear about new developments in Nordic Walking.
Discounts with Osprey – 40% discount off full retail price of current product ranges via their Osprey Pro Account

Get help promoting your Nordic Walking classes and groups
A listing on our British Nordic Walking "Find an Instructor" web directory – a good way to help people find you. Use it in place of, or as a complement to, your own web site.
Free poster and leaflet templates – use these or create your own to suit the flavour of your local market. As long as you stick to our simple brand guidelines when using the logos, we'll let you do what suits you.
Our library of exclusive Nordic Walking images – use these on your web site or printed promotional material
You'll also find that word-of-mouth is the best way raise your profile. That's why we are always on the lookout for opportunities for Nordic Walkers to get out and about in a
wide range of walks and challenge events, everything from charity fun runs to serious racers and all points in between.
Nothing creates interest quite like a group of Nordic Walkers enjoying themselves so we'll let you know about all the events we're aware of to get Nordic Walking on your local radar.
Instructor Membership of British Nordic Walking is just £60 a year. It's the equivalent of only £5 a month – excellent value by anyone's reckoning.